Cineplex Inc. ("Cineplex")
Cineplex Inc. ("Cineplex") is one of Canada's leading entertainment companies and operates one of the most modern and fully digitized motion picture theatre circuits in the world. A top-tier Canadian brand, Cineplex operates numerous businesses including theatrical exhibition, food services, gaming, alternative programming (Front Row Centre Events), Cineplex Media, Cineplex Digital Solutions, Cineplex Digital Networks, and the online sale of home entertainment content through CineplexStore.com and on apps embedded in various electronic devices. Cineplex is also a joint venture partner in SCENE – Canada's largest entertainment loyalty program.
Cineplex is headquartered in Toronto, Canada, and operates 162 theatres with 1,655 screens from coast to coast, serving approximately 74 million guests annually through the following theatre brands: Cineplex Odeon, SilverCity, Galaxy Cinemas, Scotiabank Theatres, Cineplex Cinemas and Cineplex VIP Cinemas presented by Scotiabank. Cineplex also owns and operates the UltraAVX, Poptopia, and Outtakes brands. Cineplex trades on the Toronto Stock Exchange under the symbol CGX. More information is available at Cineplex.com.
Latest news
February 09, 2016
CINEPLEX INC. Reports Record Fourth Quarter and Annual Results
January 27, 2016
American Dairy Queen Corporation Selects Cineplex Digital Media to Ramp-Up Digital Merchandising Business
January 19, 2016
Cineplex Inc. Announces its January 2016 Dividend
Fact Sheet
Investor Kit
Download our most recent Quarterly Report and Press Release
IR Magazine Awards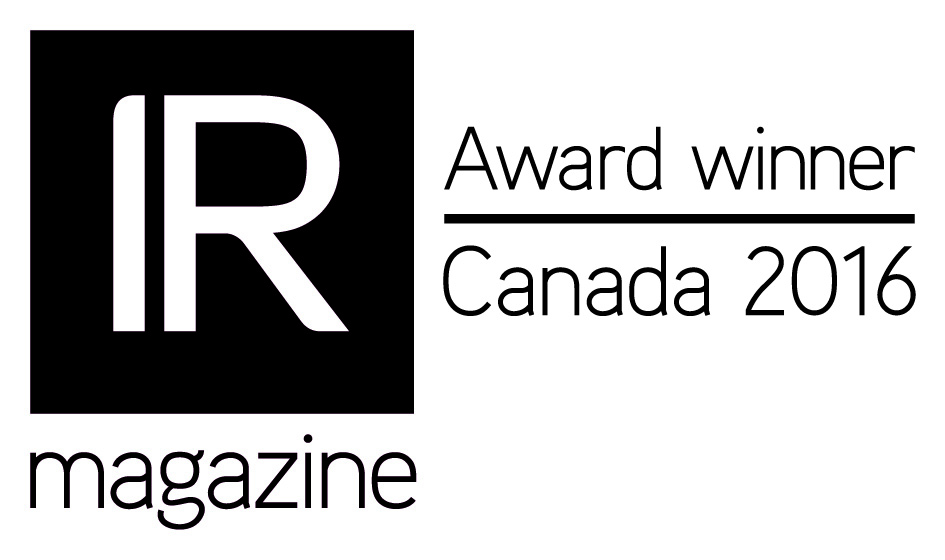 Cineplex Inc. was pleased to be honoured with an IR Award for 2016 – Best in Sector – Consumer Discretionary.